2017 GIDRM/GIRM Gold Medal
Andrea Mele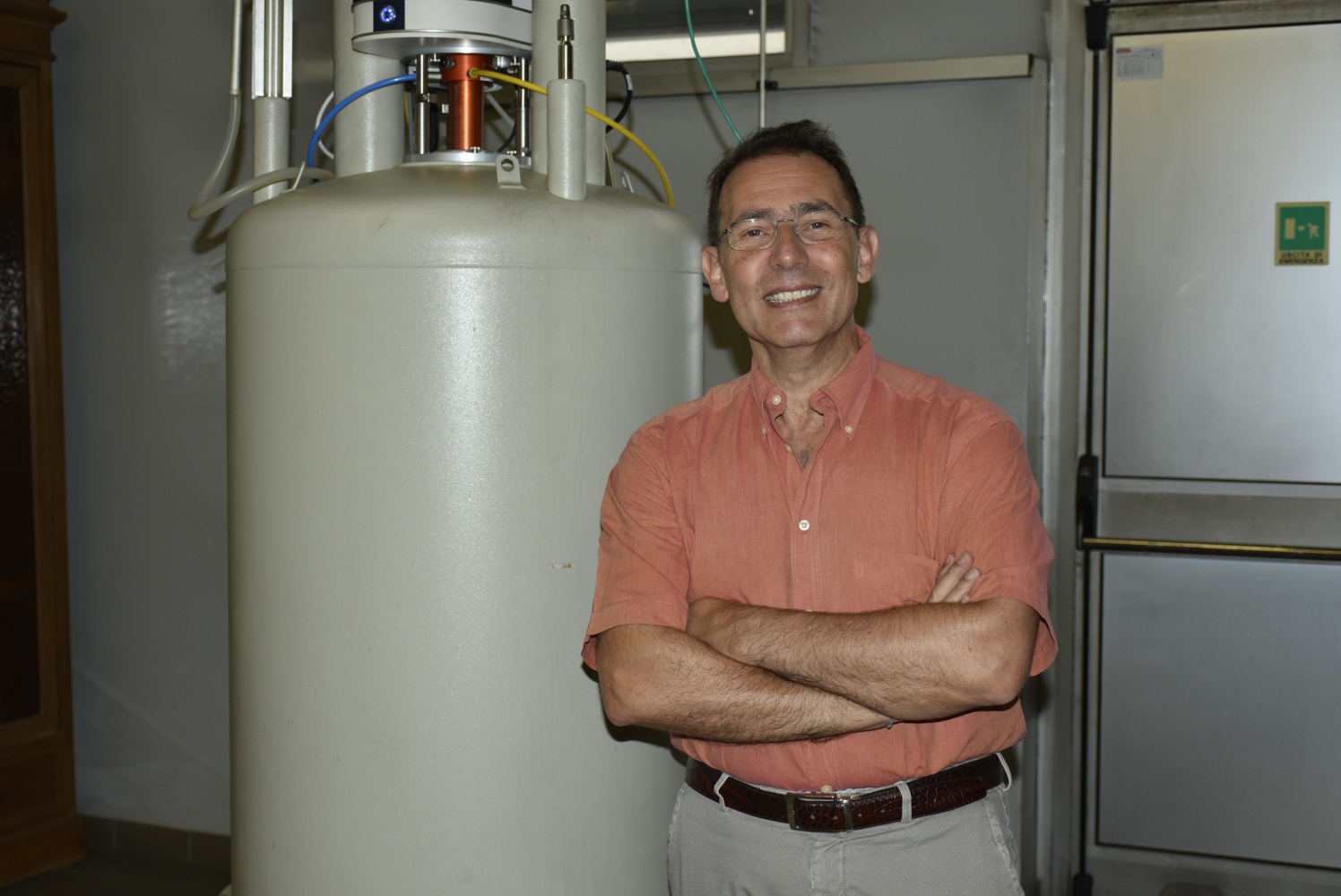 ---
Un viaggio attraverso la Spettroscopia NMR, dall'alta risoluzione all'HRMAS, fino ad arrivare allo stato solido…osservando ogni nucleo in grado di risuonare all'interno di un campo magnetico
Andrea Mele ha dedicato la maggior parte della sua carriera scientifica allo sviluppo sia teorico che sperimentale della Spettroscopia di Risonanza Magnetica Nucleare, sperimentando nuovi approcci per le molteplici applicazioni permesse oggi da questa tecnica.
Agli inizi, la sua attività scientifica si è focalizzata sulla determinazione delle costanti di accoppiamento JCH attraverso il legame glicosidico di una catena oligosaccaridica. In questo periodo, coincidente con gli anni pionieristici delle tecniche selettive basate su impulsi soft e profilati, ha avuto modo di acquisire le basi teoriche e la sensibilità sperimentale per la progettazione di sequenze di impulsi. Successivamente si è dedicato a studi di struttura e dinamica di complessi supramolecolari in soluzione, basati su misure NOE e metodologie PGSE-NMR. Indagini più recenti in questo campo hanno riguardato sistemi farmaco-nanospugne di ciclodestrine sia in forma di idrogeli, tramite HR-MAS NMR, sia allo stato-solido, tramite CP-MAS NMR, entrambi i metodi essendo applicati direttamente alla formulazione farmaceutica senza richiedere né sistemi modello né pretrattamenti dei campioni. Di spiccata originalità sono i suoi studi sulla struttura locale di liquidi ionici, tra cui si annoverano anche i primi esempi di applicazione in questo ambito del NOE intermolecolare. Come recentissimo contributo va ricordato l'aver dimostrato che il chemical shift dello Xe-129 è linearmente correlato al volume delle cavità nei liquidi ionici ricavato dalla Positron Annihilation Lifetime Spectroscopy, aggiungendo quindi un importante tassello al mosaico della comprensione di base della spettroscopia 129Xe NMR. Fattore comune in tutti gli ambiti di ricerca è la passione per le tecniche multinucleari, tra le quali vale la pena di ricordare 17O, 7Li,11B e 129Xe NMR.
Questi lavori hanno permesso ad Andrea Mele di sviluppare collaborazioni con importanti gruppi di ricerca a livello internazionale, quali ad esempio quelli del Prof. Stefano Passeri (KIT di Ulm) e del Prof. Tom Welton (Imperial College London) nel campo dei liquidi ionici, e di creare con grande entusiasmo e competenza un gruppo di ricerca che raccoglie notevole stima a livello nazionale e internazionale.
Andrea Mele ha svolto un'intensa attività improntata alla valorizzazione, all'uso e alla divulgazione della Risonanza Magnetica Nucleare in un contesto interdisciplinare. La sua origine di chimico organico gli ha permesso di interloquire con l'ampia comunità dei chimici di sintesi e di diffondere la cultura della spettroscopia NMR come fonte di informazioni strutturali e dinamiche anziché mero strumento analitico. Ha partecipato attivamente a scuole, dottorati e congressi nazionali ed internazionali ed è stato organizzatore di giornate tematiche GIDRM presso il Politecnico di Milano.
---
A travel through NMR spectroscopy, from High Resolution to HRMAS and Solid State applications….. observing each nucleus resonating in a magnetic field
Professor Andrea Mele has dedicated his scientific carrier to both the theoretical and experimental development of NMR Spectroscopy towards new approaches for the nowadays diverse applications of this technique.
His initial research activities were focused on the determination of the JCH scalar coupling constants of the glycosidic bonds present in the oligosaccharide chain for conformational studies and the consequent development of novel pulse sequences based on selective soft pulses. At the same time, Andrea's research studies were aimed at the investigation of the structure and dynamics of supramolecular complexes in solution using NOE and PGSE-NMR methodologies. Recently, novel formulation of drug delivery systems based on hydrogels of cyclodextrin nanosponges were studied by applying HRMAS and Solid-State CP-MAS NMR methodologies directly on the pharmaceutical formulation. A truly original work is the determination of the local structure in ionic liquids using intermolecular proton-fluorine or proton-lithium heteronuclear NOEs contacts. Other notable research achievements include the combined use of Xenon-chemical shift and Positron Annihilation Lifetime Spectroscopy to determine the voids and free volume in ionic liquid mixtures. Multinuclear approaches based on 17O, 7Li, 11B and 129Xe NMR were implemented in several research aspects of material science.
His landmark contributions to Magnetic Resonance Spectroscopy are corroborated by international collaborations, in particular with Prof. Stefano Passerini (KIT, Ulm) and Prof. Tom Welton (Imperial College, London) in the field of materials science. Moreover, over many years Andrea has been a wise and patient advisor of a strong and competitive research group, as well as a reference point for many students and researchers involved in NMR studies.
Finally, Andrea Mele gave numerous lectures at international conferences, NMR-schools and research laboratories as invited speaker and he recently organized several GIDRM-day at the Politecnico di Milano to spread the knowledge and importance of NMR spectroscopy in different fields, from materials science to life-science.