2021 GIDRM/GIRM Gold Medal
Stefano Mammi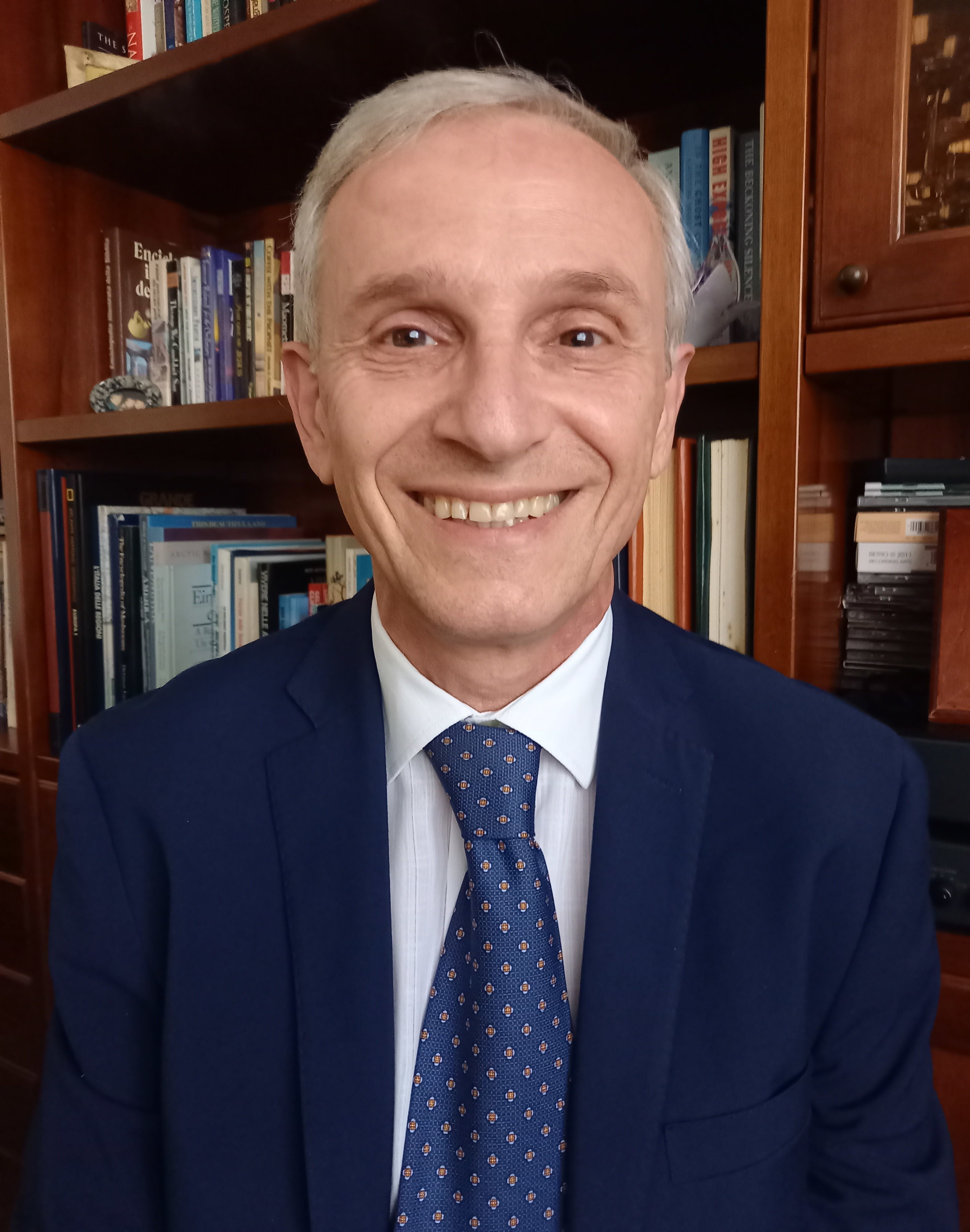 ---
I consigli direttivi di GIDRM e GIRM hanno conferito la medaglia d'oro 2021 a Stefano Mammi.
Gli interessi scientifici di Stefano Mammi riguardano le applicazioni della Risonanza Magnetica Nucleare (NMR) in diversi ambiti applicativi, dall'analisi conformazionale di peptidi e proteine, allo studio metabolomico di miscele complesse. Stefano è coautore di oltre 150 pubblicazioni indicizzati su Scopus, con un h-index complessivo di 35 ed oltre 3387 citazioni. È inoltre coautore di tre brevetti.
E' stato un pioniere nello studio NMR delle proprietà conformazionali di numerosi peptidi biologicamente attivi, sia in soluzioni acquose sia in presenza di detergenti, e delle loro interazioni con modelli di membrana. Nel tempo, ha intuito l'importanza di combinare le metodologie NMR con sofisticati calcoli di dinamica molecolare, arrivando ad affrontare sistemi proteici sempre più complessi, quali ad esempio l'alfa sinucleina, la proteina prionica e la proteina DJ-1, che assumono un rilevante ruolo nello sviluppo del Morbo di Parkinson, rivelando in quest'ultimo caso importanti correlazioni tra la compromissione di DJ-1 e la degenerazione dei neuroni dopaminergici.
Tra i suoi lavori scientifici più citati risultano: "Kinetic and structural analysis of the early oxidation products of dopamine: Analysis of the interactions with α-synuclein (2007)", "The reaction of α-synuclein with tyrosinase: Possible implications for parkinson disease (2008)", "Structural insights on physiological functions and pathological effects of α-synuclein (2009)". Ha inoltre messo a punto diversi metodi NMR per la determinazione dell'autenticità degli alimenti. Basti citare che nello studio del caffè, ha dato significativi contributi in ambito applicativo, mettendo a disposizione le sue competenze per affrontare le problematiche di importanti industrie del settore, e portando ad un proficuo trasferimento tecnologico delle conoscenze, come testimoniato dai brevetti depositati. Alle doti scientifiche Stefano Mammi affianca eccellenti capacità didattiche e divulgative, in qualità di relatore a numerose scuole e convegni di rilevanza nazionale ed internazionale, di docente nell'ambito dei corsi di laurea e dottorato in Italia ed all'estero.
Soprattutto per i giovani ricercatori, può risultare istruttivo ripercorrere il percorso scientifico e professionale che Stefano ha seguito nell'ambito NMR nel corso degli ultimi quaranta anni, e che viene illustrata sinteticamente nel seguito.
Stefano Mammi si è laureato con lode in Chimica presso l'Università di Padova, discutendo la tesi "Interazioni tra Peptidi Gastrinici e Ioni Calcio", sotto la guida del Prof. Evaristo Peggion, Istituto di Chimica Organica, e ricevendo subito dopo la medaglia d'oro "Silvio Bezzi" quale miglior laureato di Chimica e Chimica Industriale dell'AA 1980-81.
Stefano Mammi inizia la sua carriera accademica in qualità di Postgraduate Research Chemist, presso l'Università di California a San Diego (USA), Dipartimento di Chimica, dove lavora dal 1982 al 1985, nel gruppo di ricerca del Prof. Murray Goodman, occupandosi di studi conformazionali di peptidi gastrinici con metodologie NMR ad alta risoluzione.
Nel settembre 1985 risulta vincitore di concorso presso il Consiglio Nazionale delle Ricerche e rientra in Italia, dove prende servizio prima nel Ruolo Tecnico Professionale e l'anno dopo come Ricercatore, svolgendo la propria attività presso il Centro di Studio sui Meccanismi di Reazioni Organiche ed in seguito presso il Centro di Studio sui Biopolimeri del CNR di Padova, dove rimane in servizio sino al 1992.
In questa intensa fase di attività presso il CNR di Padova si occupa, tra le svariate tematiche di ricerca: di studi sulla conformazione della minigastrina umana nelle micelle di sodio dodecil solfato mediante 1H NMR (1987, 1990); dello sviluppo di un programma BASIC per l'analisi elementare dei peptidi (1989); di studi conformazionali di bombolitine I e III in soluzioni acquose contenenti micelle di tensioattivi, mediante dicroismo circolare, 1H NMR e simulazioni al computer (1990); dello studio conformazionale di frammenti di uteroglobina (1992).
Nel frattempo, a febbraio 1988, consegue il titolo di Dottore di Ricerca in Chimica Organica, discutendo la tesi "Studi Conformazionali su Peptidi Gastrinici".
A novembre 1992 risulta vincitore di concorso e prende servizio come Professore Associato presso l'Università di Padova e nel 2001 diventa Professore Ordinario di Chimica Industriale (CHIM/04) presso la stessa sede. Presso l'Ateneo di Padova Stefano si è interessato di tematiche di biologia strutturale di proteine utilizzando NMR ed altre metodologie avanzate. Lo scopo di queste ricerche è stato di determinare le relazioni tra l'attività biologica e la struttura secondaria di molecole, naturali o sintetiche, e di delucidare i meccanismi di processi naturali e poter quindi intervenire su di essi sviluppando nuovi farmaci.
Nel 2002 è stato invitato come "INNOVATEC Guest Professor" presso la Facoltà di Chimica e Farmacia dell'Università di Regensburg (Germania).
A giugno 2018, con decreto del Ministro Beni Attività Culturali Turismo, è stato nominato Socio corrispondente dell'Accademia Galileiana di Scienze, Lettere ed Arti, nella classe di Scienze Matematiche, Fisiche e Naturali.
La comunità NMR italiana conosce Stefano Mammi per il pluriennale coinvolgimento nelle attività del GIDRM. Dal 2001 al 2016 è stato Membro del Consiglio Direttivo del GIDRM; ne è stato Vice Presidente dal 2002 al 2004, Presidente dal 2005 al 2010, e Tesoriere dal 2011 al 2016.
Durante tale periodo Stefano Mammi ha messo a disposizione le sue competenze con grande umiltà, gentilezza e dedizione, favorendo lo sviluppo delle attività del GIDRM, quali l'organizzazione del Congresso annuale sia nazionale che con partner internazionali e l'istituzione delle borse di studio. Ha dato inoltre un contributo determinante alla realizzazione e al prestigio delle Scuole NMR del GIDRM, sia in qualità di organizzatore, sia come eccellente docente, sempre presente e disponibile a tenere lezioni, sia nei corsi di base che in quelli avanzati. In quegli anni di lungo impegno Stefano Mammi è stato l'anima stessa del GIDRM, assumendosi con leggerezza e competenza anche i compiti meno nobili, come ordinare zainetti, magliette e gli splendidi righelli GIDRM che tutti i soci conservano con cura. Allo stesso tempo era sempre presente a tutte le discussioni scientifiche, con interventi e domande sempre puntuali e costruttive.
Naturalmente, non meno importante, è stato il contributo di Stefano Mammi all'interno del Direttivo del Gruppo Interdivisionale delle Risonanze Magnetiche (GIRM), dal 2015 al 2020, sorto per iniziativa delle Divisioni di Chimica Inorganica, Organica e della Chimica dei Sistemi Biologici della Società Chimica Italiana.
In conclusione, le comunità scientifiche del GIDRM e del GIRM hanno un grande debito di riconoscenza nei confronti di Stefano Mammi per l'enorme lavoro svolto e la efficace dedizione profusa nel farle crescere e prosperare, e soprattutto per il ruolo fondamentale che ha avuto nella formazione culturale di intere generazioni di giovani nell'ambito delle Risonanze Magnetiche.
La carriera scientifica di Stefano Mammi è iniziata nel 1981 con una medaglia d'oro come migliore laureato di Chimica e Chimica Industriale presso l'Ateneo di Padova, ed oggi si arricchisce della medaglia d'oro GIDRM/GIRM. Possiamo senz'altro dire che Stefano Mammi è un campione olimpionico di Risonanza Magnetica.