2006
Claudio Dalvit
---
Il dr. Claudio Dalvit si è particolarmente distinto nel panorama italiano e internazionale per la continuità e la prolificità di idee innovative immesse nello sviluppo di sequenze di impulsi e di applicazioni utilizzando la spettroscopia NMR in soluzione su molecole di interesse biologico. Di particolare interesse è il percorso che dal campo di studio del problema della soppressione del solvente (acqua) lo ha portato allo studio e approfondimento del fenomeno del "radiation damping" per pervenire a interessanti applicazioni nel settore del "drug discovery" industriale.
Forte della conoscenza diretta dei problemi connessi con il "drug discovery" e delle limitazioni delle attuali metodologie di screening alla ricerca di "lead compounds", il dr. Dalvit ha sviluppato metodologie che consentono di effettuare esperimenti in forma 1D, sfruttando proprietà fisiche "trasmesse" alle piccole molecole durante il periodo di vita del complesso con la macromolecola, attraverso le molecole d'acqua che rimangono intrappolate all'interfaccia, consentendo quindi il monitoraggio dell'evento d'interazione. Tale sviluppo ha consentito di ampliare e percorrere in modo del tutto originale lo screening di collezioni di composti in campo bio-farmaceutico.
In questo settore, nell'arco di oltre un decennio, ha prima sviluppato metodiche quali il phogsy, correntemente utilizzate nel campo farmaceutico da tutti i grandi gruppi di ricerca industriali e/o pubblici, e successivamente ottimizzato e ampliato il campo delle applicazioni sfruttando molecole "spy" che opportunamente contengano atomi di fluoro, per effettuare saggi di spiazzamento. La sensibilità intrinseca di tale nucleo consente di abbassare la soglia delle concentrazioni necessarie per effettuare lo screening ampliando notevolmente la gamma delle applicazioni sulle quali la spettroscopia NMR puo' dare un contributo.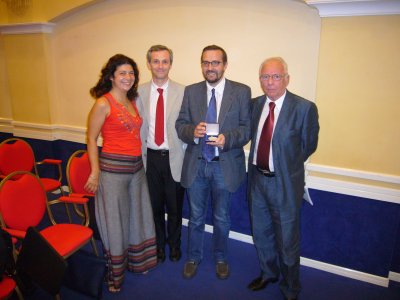 Il principale pregio del percorso scientifico del dr. Dalvit risiede nell'originalità e unicità del contributo dato a tutta la comunità di spettroscopia NMR. Egli ha infatti prima posto le fondamenta per un filone di ricerca, e poi lo ha sviluppato con lucida concretezza.
Per continuità, serietà, professionalità nei suoi approfondimenti scientifici, e per l'estrema chiarezza nei suoi interventi pubblici in occasione di conferenze o di specifici seminari, e' stato ed è un esempio per la comunità di spettroscopia NMR, non solo italiana, di come si possa coniugare interesse scientifico con attività finalizzata.
Dr. Claudio Dalvitt after receiving the GIDRM/GIRM Gold Medal during the XXXVI National Congress on Magnetic Resonance in Vietri sul Mare (Italy) together with the president of the GIRM (Prof. Stefano Chimichi, right), the president of the GIDRM (Prof. Stefano Mammi, second from left) and Dr. Marina Veronesi (left).